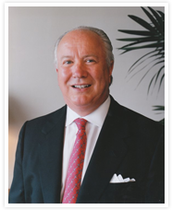 Ralph Curton, Jr., Chief Executive Officer, brings more than 40 years experience in all aspects of the energy industry to Thurston Energy LLC, the company he founded in 2004. Ralph Curton brings a special expertise in building fruitful and mutually satisfying relationships that are key to success in the energy business.

He is director on the board of the Amarillo-based EnergyNet.com, the world's largest internet auction platform for oil and gas properties.

Mr. Curton actively supports numerous charitable organizations, and is active in state and national politics. He attended the University of Washington in Seattle and Baylor University in Waco, Texas, where he majored in finance and business administration.

---
Chris Curton, Chief Operating Officer, oversees virtually every aspect of Thurston Energy's business activities. Since joining the company his operations responsibilities have ranged widely. He is currently focused on increasing the company's Texas footprint by increasing production from existing wells and drilling new wells through efficient use of resources, technology, and personnel.

Most recently, he was Vice President of Business Development and Director of Operations. He has overseen all field operations, promoting efficient use of resources, hiring skilled field supervisors, finding and deploying technologies for surveying, drilling, and managing production. Under his guidance, the company has improved its regulatory and compliance procedures related to drilling permits, environmental matters, training, and safety issues. Chris has been an active participant in forming and cultivating key partnerships and in finding and closing new deals.

Chris began his career as a roustabout on the oilfields of Kilgore Texas in 1989 and quickly gained experience across all aspects the industry, from production to petroleum law and land management.

Recognizing the ever changing world of the oil and gas business, Chris continues to educate himself by attending seminars, continuing education classes, and certificate programs, most recently completing a Land Management Program at Texas Christian University and The Energy Executive Management Program at the University of Oklahoma.


James Hazelbush, Director of Operations, brings over a decade of hands on operational experience to Thurston Energy. At the Texas site, he manages and directs personnel involved in such activities as drilling and completions of new wells, workover of old wells, erection of rigs, installation and maintenance of equipment, and all phases of production. James also Play's an important role in directing all operations of Thurston Energy.

James began working in the oil industry when he finished high school in 2001. He worked in various jobs in the industry after finishing high school, including but not limited to, pipe line construction, roustabout work, heavy equipment operations, and welding. In 2004, James went to work for Key Energy on workover rigs, starting out as a floor hand and worked his way up to operator. Upper Management of Key Energy transferred to Basic Energy and brought James with them where he fabricated and built workover rigs, rig equipment and operated his own rig and was soon promoted to rig supervisor. As rig supervisor for Basic Energy, James supervised all aspects of his rig, including lining up work and managing his crew. In 2011 and 2012 while rig supervisor for Basic Energy, James oversaw a multiple-well workover project for Thurston Energy. Seeing the sucess of this workover plan, Thurston added James to the Thurston team.

James is a great addition to the Thurston team and continues to broaden his knowledge base through programs like The Energy Executive Management Program at the University of Oklahoma and continuing education courses with the Railroad Commission of Texas. James' connections and relationships in the industry are priceless and his continuing efforts to build relationships in the industry are invaluable.


Mallorie Reynolds, CPA, Controller, oversees all accounting functions, from accounts payable to joint interest billing, for Thurston Energy LLC and its subsidiaries. In addition to performing her accounting duties, she is also responsible for regulatory reporting in Texas and Colorado and is an integral part of the operations team.

Before starting full time at Thurston Energy, Mallorie worked in the accounting department of the Susan G. Komen Headquarters office and also completed an internship at KPMG. Since she has been at Thurston, she has continued her education in a wide range of current oil and gas subjects by attending several classes and seminars. She has completed the Energy Executive Management Program at the University of Oklahoma, a program designed to give participants from various backgrounds an overview of different aspects of the industry and to provide them with tools to become better leaders. Mallorie also attended the AICPA National Oil and Gas Conference in Denver in order to understand more about the latest trends facing the oil and gas industry. She gained extensive knowledge about oil and gas accounting systems and software by attending the Annual Users' Conference presented by WolfePak software. Most recently, she attended the JOA Analysis Program through the Professional Development Institute in Fort Worth, a seminar that provided a good introduction to analyzing the agreements that govern relationships with working interest owners.

Mallorie graduated from Southern Methodist University's Cox School of Business where she received a B.B.A. in Financial Consulting. In her post-graduate education at the same university, Mallorie received a Master of Science in Accounting degree. Since receiving the Master's degree, she has become a Certified Public Accountant in Texas.